CFS/Fibromyalgia-Friendly Recipe: Lentil & Nut Loaf
Published: December 11, 2018
Here's another great FMS-friendly dish from one of my favorite nutritionists, Lauren Hoover-West. (Visit Lauren's blog to see all her recipes.)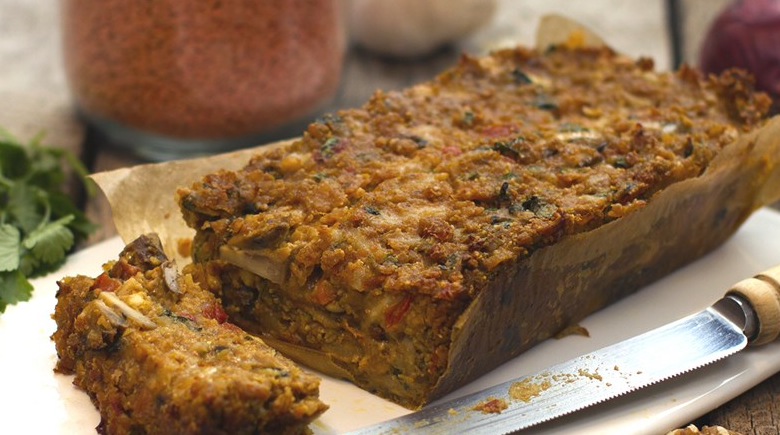 Lauren's Lentil & Nut Loaf
This is a moist and flavorful plant-based "no-meat loaf" that even meat eaters love! By changing the seasonings you can have a variety of flavors each time you make it!
Yields: 1 loaf (9"x5")
Ingredients
8 oz. dried brown or green lentils, or 3 cups cooked lentils (sprouted is more digestible)
1 lg. Hawaiian Maui sweet onion, diced
4 cloves garlic, pressed
1 TBSP extra virgin olive oil
2 cups raw organic walnuts, or pecans, or raw sunflower seeds, ground (use food processor or blender)
2 cups cooked organic Quinoa or organic brown rice
2 TBSP gluten-free teriyaki sauce, or 2 tsp Worcestershire sauce or Coconut Aminos
1/4 cup chopped Italian flat parsley, and/or cilantro
1 tsp organic dried thyme
2 organic cage-free eggs, or 2 TBSP chia seeds or flax seeds, ground + 6 TBSP filtered water
1/2 organic ripe banana, mashed, or 1/4 cup sautéed mushrooms, pureed
Hawaiian Sea salt and pepper to taste
1/4 tsp allspice, ground
For a spicy taste, add 1/4 tsp Jamaican Jerk (optional)
Directions
Look though lentils and remove any small stones, then rinse the lentils. Put the lentils in a glass bowl. Fill and cover with filtered water 2 inches above lentils. Stir, cover and refrigerate for 3 hours.
Drain lentils and cover with cold water. Bring lentils to boil, then simmer over low heat about 20-40 minutes or until soft (specific cooking time will depend on what kind of lentil you use).
Cook Quinoa or rice or whatever starch you choose according to package directions (I use a rice cooker). Quinoa is higher in protein and contains all the essential amino acids our bodies don't make!
Preheat oven to 350 degrees.
Measure out and chop all ingredients and then set aside.
Sauté onions and mushrooms in extra virgin olive oil over medium-heat, until translucent. Add garlic and sauté until golden brown (about 1 minute), and put into a large mixing bowl. Set aside to cool.
In a food processor, puree all ingredients except rice and lentils.
Drain lentils very well, mix in with the rest of the ingredients in a large bowl.
Press lentil mixture into a greased 9"x5" loaf pan, and put on a cookie sheet. (Alternatively you can place in muffin tins for individual servings, which is especially great for kids. Just reduce the cooking time to 40 minutes.)
Bake loaf on the middle shelf of the oven for 1 hour. Serve and enjoy. If you have any leftover, you can reheat it in the oven at 350 degrees for about 5 minutes.
12-Week Holistic Healing Journey
Lauren conducts weekly online meetings with people looking for strategies to help make dietary and lifestyle changes. She offers a 12-step holistic approach that you can participate in 1-on-1 or as part of a group. This is a fee-based course (discounts available based on need) that will eventually be automated, but for now is offered live beginning in January.
The course is meant for people who are struggling with or new to anti-inflammatory living, or are otherwise having difficulty sticking to a restricted diet. Students will not only learn how and where to shop, but about delivery services, healthy and delicious choices that can be purchased or made at home, better ways to eat out, travel, and even cosmetics and home supplies. Lessons are presented much like EFT and with grounding techniques for mind body and success.
Be Well & Thrive,
Lauren Hoover-West, Holistic Health Coach & Chef
Phone: (925) 457-7799 | Website:
No Wheat, No Dairy, No Problem!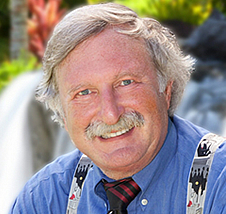 Jacob Teitelbaum, M.D. is one of the world's leading integrative medical authorities on fibromyalgia and chronic fatigue. He is the lead author of eight research studies on their effective treatments, and has published numerous health & wellness books, including the bestseller on fibromyalgia From Fatigued to Fantastic! and The Fatigue and Fibromyalgia Solution. Dr. Teitelbaum is one of the most frequently quoted fibromyalgia experts in the world and appears often as a guest on news and talk shows nationwide including Good Morning America, The Dr. Oz Show, Oprah & Friends, CNN, and Fox News Health.